Background
Microplastics are found in the ocean, soil, glaciers, deserts, and most crucially, food and drinking water. MPs have been found in malignant lungs, blood, excrement, and placenta. These studies imply that consuming or inhaling MPs endangers health.
MPs have been found in shellfish, particularly bivalves. Its prevalence in rice and beef is poorly understood. Fast-paced lifestyles and economic growth have boosted takeout.
During the coronavirus disease 2019 (COVID-19) epidemic, many have found it convenient to buy food online for takeout. Freshness of ingredients, safety and quality of take-out food containers, and correct cooking and cleaning suffer without proper oversight. MPs have been found in food containers but not in food. It's important to measure MP exposure from takeout food.
In a recent Environmental Research research, scientists analysed MPs straight from take-out food from South China. They studied its prevalence in takeout food. Consumers' take-out food consumption and MP abundance were studied.
Research
Guangzhou's college-heavy Tianhe and Panyu areas provided takeout food samples. Many students order takeout utilising web apps (Meituan and Eleme). Solid meals including rice, noodles, beans, meat, and veggies, and beverages like bubble tea and coffee were ordered through the app.
Take-out food samples were digested in water and filtered. This room-temperature-dried filtrate was used for analysis. Standard procedure was used to analyse beverage samples. These dried samples were examined under microscopes to identify MPs.
Data
This study tested 100 take-out food samples. MP abundance in food samples varied by storage conditions, food type, and cooking method. Food packaging materials did not affect MP concentration.
Rice is packed in PE, PP, PET, and paper bags before cooking. Uncooked rice contained MPs that may have peeled from plastic packaging. Noodles, meat, veggies, bean sprouts, and bubble tea are wrapped in plastic and refrigerated for brief intervals.
MP levels were higher in room-temperature food than in frozen or refrigerated meals. Previous studies found that food held in plastic containers at low temperatures generated fewer microplastics. MPs in drinks may come from water.
PS-stored rice had the most MP. Shape, size, and colour of MPs vary by take-out cuisine. PE/PP, PE, PET, PP, and polystyrene (PS) are prevalent MPs, according to Raman spectroscopy. Takeout eaters consumed many MPs. An adult who bought takeout 1-2 times per week consumed 170638 MPs.
Conclusions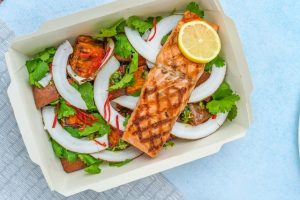 Take-out foods contain MPs from the container, cooking methods, and food categories. The authors recommended storing takeout in glass containers and avoiding fried or roasted food.